KinkFest Workshops
Click here to view the workshop schedule
Unfortunately things happen and as such all workshops are subject to change without advance notice.
Age Play - From Light to Dark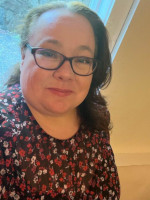 Age play, with consenting adults, is fun and super fucking hot! (Miss) Andie, who has a little, age 5, and plays with light as well as dark age play, will start by reviewing important child and parent archetypes. She will then take some time to discuss the lighter side of age play including play dates with other littles, storytime, coloring, and much more.

Ever wonder how to incorporate age play into your dynamic or create a space where your partner feels comfortable exploring their little side? (Miss) Andie will talk about different ways to accomplish this while also covering some key differences between littles and middles as well as types of caregivers.

Want to take your age play to a darker place? Role play with more taboo topics? (Miss) Andie will share personal stories about her experience with dark age play, including using it to reclaim traumatic experiences, indulging in taboo fantasies, and how to do all of this while keeping you and your partner safe.

Keywords
ageplay, dark ageplay, little, middle
Class Type
Participant Requirements
None
All Things Pokey (or perforation play)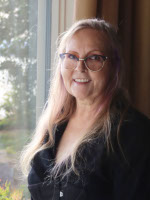 From medical staples to needles, to acupuncture needles; from endorphin buttons to needle bondage and smallish flesh hooks; possibly a flesh corset. Things that perforate the skin can give both bottom and top a very powerful rush. The metallic essence in the air, the ruby trails across the skin, and the wince beside the eyes as something eases through that soft, supple flesh: these are some of the delightful aspects of pokey play. Come and explore these pokey things with Miz Tee and her prey.

This is an interactive presentation. This is a 500 skill level presentation. We do not encourage trying many of these activities without putting due time in your own kink-aware training.

Keywords
blood, torture, staples, needles of different sizes and flesh hooks.
Class Type
Participant Requirements
none
Anticipatory Service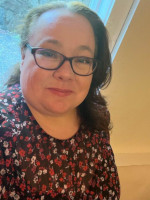 Anticipatory can be incredibly hot to a top and fulfilling for a bottom. Unfortunately, it can also be awkward or just fall flat.

(Miss) Andie will share her love of providing and receiving anticipatory service, starting with how to evaluate if it is right for your dynamic. Using demonstrations and personal stories, she will walk the class through introducing anticipatory service to your dynamic to ensure success on both sides of the slash.

Speaking to the bottoms in the room, (Miss) Andie will give detailed guidance on how to start building your skills in anticipatory service including attention to detail, gaining satisfaction even when the D-type does not notice, and suggestions on where to begin. For the folks on the other side of the slash, (Miss) Andie will cover how to accept anticipatory service, even if it does not feel natural, and ways to ensure your s-type is successful in their service.

Wrapping up, she will discuss how to course correct if things go off the rails.


Keywords
anticipatory service, service, power exchange, M/s
Class Type
Participant Requirements
None
Barbed Wire: It's Not Just For Cattle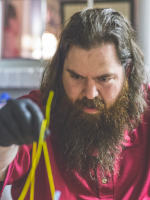 Barbed Wire, a.k.a The Devil's Rope is a very versatile edge play implement. In this class, we will explore the use of barbed wire for bondage, for predicament, for impact, for aesthetics, and for blood. We will also discuss some safe handled best practices and hygiene concerns with regards to playing with barbed wire. Come learn that Barbed Wire is not just for cattle!
Keywords
barbed wire, blood, impact, edge play
Class Type
Participant Requirements
Experience with impact play and experience with blood play.
BDSM & The Law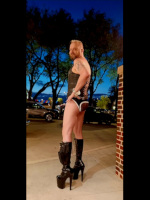 This 90 minute course will provide attendees with a basic overview of the law (with particular emphasis on Arizona, California, Oregon, and Washington) as it pertains to BDSM activities and considerations for unmarried couples. Topics will include consent, indecent exposure, criminal and civil law considerations.

I. Consent...the BDSM elephant in the room.
A. Can you legally consent to be battered (spanked) or assaulted?
B. Police considerations: big cities versus suburbs, small towns or rural cops.
C. Get it in writing if you are concerned, but beware – it may not be enforceable.
D. Forms.

II. Indecent Exposure...when an inch may not be enough.
A. State laws
B. More restrictive city ordinances. The infamous Flagstaff "buttocks ordinance" of 1889.
C. Liquor license considerations.

III. Criminal prosecutions...if it doesn't fit (ow!), you must
acquit.
Keywords
Consent, assault/battery, rape, indecent exposure.
Class Type
Participant Requirements
None.
BDSM on a Budget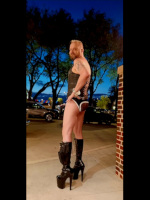 So you are kinky but haven't robbed a bank, thus all of the amazing gear and fetish things available seem way out of your budget? While kink should be for everyone, the reality is not everyone can afford the high end fetish gear that you drool over all the time. Thus, thrift stores, garage sales, and resale shops should become your friend. What is a pervertable? It is simply any common thing which can be used in a kinky and fun way.
Keywords
BDSM, Thrift Store
Class Type
Participant Requirements
None
Beating Suspension Stereotypes: Suspension for Larger Individuals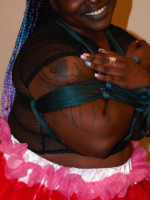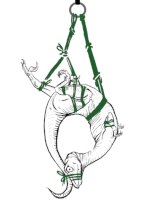 Do you constantly find yourself tying folks taller than you? Is gravity getting you down when you're trying to lift someone into the air? Are you a bottom whose been told that because you're (insert excuse here) you can't be suspended? Come learn some ways to adapt your suspension that makes it easier on you and your bottom while perpetuating the idea that suspension can be for everyone.
Riggers should know both a suspension worthy chest (box tie/hands free) and lower body (waist/hip) harness, Bottoms should have an understanding of good vs bad pain. Natural and Synthetic ropes are welcome in this class.

Keywords
Rope Bondage Shibari Kinbaku Body Positive Suspension
Class Type
Participant Requirements
full suspension kit (8-15 ropes, carabiners, straps, ring, etc), Cutting Tool
Best Kink Advice Nobody Told You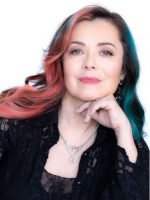 This class is for sexy nerds. It's not a class about how to use a tool. It's about the Why. This is for people who care about excellent communication and improving connections with self & partners.

Do you want more fulfilling BDSM? Are you new to kink? Need more effective ways to uncover other's real desires & minimize scene failure? Want to better communicate your hungers? Dissatisfied with scenes or frustrated at not having your desire accepted? Want to create multi person scenes where everyone's happy? Frustrated with vague terms & limiting beliefs prevalent in kink circles? Let's get smarter about how we express our desires. Let's reframe kink desires & gain practical ways to convey our pleasures. Ditch the standard definitions of kink & expands the idea of what it's all about. Midori maps out a fine-tuned, flexible framework to better describe your appetites. The first step to fulfilling your desire is to better understand them, then effectively & appealingly convey them.
Keywords
beginner, newbie, negotiation, desire, psychology, communication,
Class Type
Participant Requirements
None
Body Manipulation for Tiny Riggers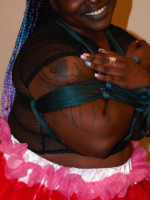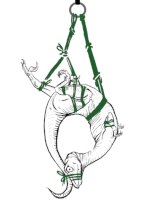 Are you short in stature or used to tying individuals larger than yourself? Do you struggle with maintaining connection or manipulating their body that leaves you in control of the scene? Come learn some tricks and techniques for the ground that will make your scenes be a little less awkward and a little more natural.
Keywords
Rope Bondage Shibari Kinbaku Body Positive
Class Type
Participant Requirements
3+ Hanks of Rope, Cutting Tool
Botanica Erotica: Kinky Plants for Pleasure, Pain, and Passion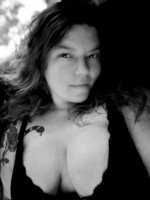 Green witches do it better. Have the roses AND the thorns! This class introduces you to the myriad of kinky adventures enhanced by using plants for erotic play.

Topics covered will include the use of herbal aphrodisiacs to assist with relaxation and dropping in, sensation and impact play toys using safe abundant and ethically harvested natural materials, natural first aid and aftercare, botanical sexual health support, and herbs to help prevent or mitigate the symptoms of drop.
Keywords
Plants, Phyto Play, BDSM, Sensation Play, Sex
Class Type
Participant Requirements
None
Breathless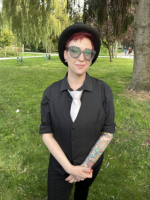 There's nothing quite like the exhilaration of having and controlling a person's ability to breathe, or of giving yours to someone else! In this demonstration based workshop, we're going to start off by getting nice and nerdy and discuss how the human body reacts to being without air. Topics such as safety, minimizing risks, and playing at home vs. parties will be discussed. Then brace yourself for some breathtaking demonstrations with methods, tips, tricks and more!
Keywords
breath play, choking, air chokes, blood chokes
Class Type
Participant Requirements
Responsibility Awareness of your Knowledge, Skills, and Experience
Building, Negotiating, and Executing a Dynamic Mindfuck Scene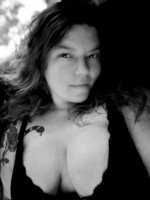 The mind is the most important sexual organ in the body... Come learn the many ways in which you can incorporate Mindfucking into your play and dynamics to build better scenes and take them to higher levels of depth and sensory satisfaction.

In this class you will learn about the different techniques to mess with the mind in ethical ways to bring your play partners to heightened states of arousal, catharsis, and even healing. Maeve and a special guest will guide you through the many ways both tops and bottoms can utilize mindfuckery, as well as how to navigate boundaries, negotiation, scene building, the potential for trauma activation during scenes, and the special mental and emotional methods of care in-scene and aftercare needed when messing with the mind.
Keywords
Mindfucks
Class Type
Participant Requirements
None
CBT & Ballbusting - Spin it. Flick it. Pull it. Twist it. It's a Bop it… sort of.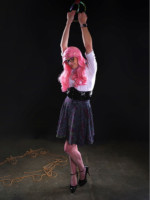 Spin it! Flick it! Pull it! Twist it! It's time for the better version of the Bop it!

Cock and Ball Torture, also known as CBT, covers a range of activities that can bring pleasure, pain, or both to your bottom. With over a decade of experience, Ainsley continues to find new fun ways to bring bottoms to their knees with a disarming smile and just a few of her favorite tools. Before the fun begins, we'll cover safety, risks, and issues that both tops and bottoms need to be aware of before engaging in a different type of therapeutic session. After the foreplay of safety, it's time to get into all sorts of fun with discussing methods and practices on finding safe and consensual ways to make your bottom quiver in fear and excitement with toys, rope, and your bare hands.

Please note: This class will have a fun demo provided the time permits.

"It's [CBT] like a trust fall except they fall onto your foot with their balls…"
~Daddy An Li

Keywords
cock and ball torture, cbt, chastity, chastity play, ball busting, genital torture
Class Type
Participant Requirements
None
Chronic Pain + SadoMasochism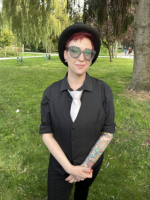 Whether it's due to injury, arthritis, fibromyalgia, or any other cause- chronic pain can often feel like either a asset or hinderance in our kink lives. Let's discuss how chronic pain can impact SadoMasochism, and some of the best ways to work with or around chronic pain.
There will be demonstrations on some helpful sadism such as acupressure play/fascial massage/etc, and opportunities to practice (totally optional, it's okay to watch!).
Keywords
chronic pain, pain, sadomasochism, kink, helpful sadism, painful massage, acupressure
Class Type
Participant Requirements
None
Cigar Service, Preparation, and Play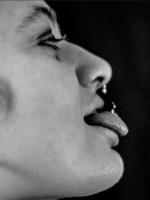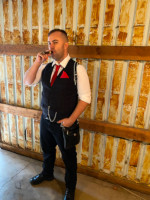 A low key, participation presentation on how to provide and give cigar play, from cutting and lighting, to heat play and ashing into a bottom's mouth.

Everyone is encouraged to bring their cigars and bottoms to follow along, but cigars and lighters provided by Rose City Leaf and Leather will also be available.
Keywords
Cigars, Service
Class Type
Participant Requirements
None
Co-Topping for More than Double Impact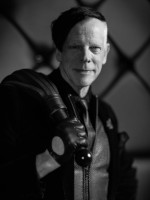 Incorporating a second Top into your BDSM can add an exciting element of novelty to a scene, especially by delegating a fellow Top to execute your commands, techniques, and punishments. Demanding the best skills of trust, management, and communication, working with (or as) a co-Top is great for intensity, stamina, role play, and incorporating new skills and experiences into scenes with less risk. It's also an awesome prelude or addition to threesome sex. Learn how to find and negotiate with a co-Top, delegation and team consent tips, mid-scene management, and many scenario/role play ideas for co-Topping.
Keywords
None Specified
Class Type
Participant Requirements
None
Don't Tell Me What I Can't Do: Dark Disability Play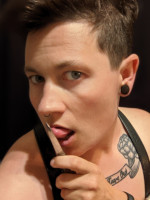 People often look at disabled individuals and imagine a wide range of limitations. We are often taught to avoid, accommodate, or completely ignore a recognition of disability. This class will teach you to look at disability impairments as an opportunity. If you have a partner that is comfortable exploring their disability, there are endless possibilities for empowering sadomasochistic fun.
Keywords
None Specified
Class Type
Participant Requirements
None
Dungeon Etiquette & Orientation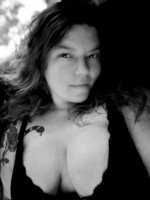 New to BDSM? Is this your first kinky convention? Are you returning to public play after a long hiatus? The KinkFest dungeon is one of the largest kinky play spaces in the world and a wide variety of play and experiences are possible within its walls. Join Head Dungeon Monitors Paulcifer and Maeve McBride for an orientation to the dungeon, including:

An overview of the types of play that are possible in the KF dungeon
Features and furniture
Dungeon rules and code of conduct
Dungeon safety, resources, and best practices
Dungeon etiquette

You will leave this class ready to walk through the dungeon doors feeling more confident, prepared, and ready to play! Class will include plenty of time for Q & A.
Keywords
Trauma, impact, mindfucks, sex, topping, D/s
Class Type
Participant Requirements
None
Dynamic FemDom Archetypes: Demystifying the FemDom in Pop Culture and Media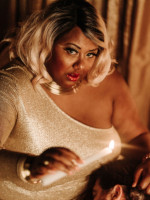 This workshop will dive into the stereotypes of what it is to be FemDom. We will talk about FemDom Archetypes that are commonly forgotten in the conversation surrounding Female Led Dynamics.
We will also explore Female Domination in popular media.
Keywords
FemDom, D/s, BDSM
Class Type
Participant Requirements
None
Dynamic Rope Play - Control and Dominance Moves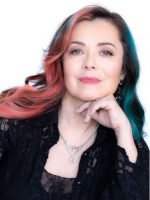 Learn effective rope moves to enhance and make hot play.
Whatever style of bondage or rope play you enjoy, these skills will boost the emotional and psychological intensity. In this hands-on class, you'll practice safe moves that are body-smart for the top side and bottom sides.
Whether you enjoy Kinbaku, Shibari, Westen, Predicament, Damsel in Distress, Take-downs, or Confrontational play, these techniques will integrate well into your fun!

No experience necessary.
Keywords
rope, shibari, bondage,
Class Type
Participant Requirements
Bring one or two lengths of rope that you usually play with. If you're not sure, bring two or three lengths of 20 to 30 feet of ropes. If you don't have any rope, there will be some available to borrow. (Optional - someone to do the exercises with). Wear comfortable clothing that's easy to move in. We will be moving a lot! We'll all be doing all the exercises in turn. As this is a movement and physical class, please adjust to your physical state, health, and safety.
Electrical Play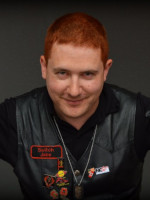 Actively playing with something your parents told you not to: electricity. Includes toys (violet wands, tens units, cattle prods, car batteries, and more!) and safety. Additionally, there will be a demo during the class. For those of us who stuck our fingers into electrical outlets and liked it, electricity can be used in a multitude of ways, for both pain and pleasure.
Keywords
electrical
Class Type
Participant Requirements
None
ES&M, the Middle Years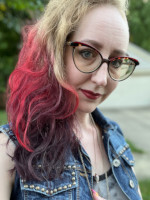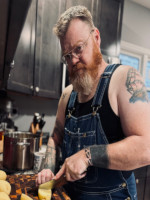 You've found ES&M play and you love it. Now what? Expand your understanding of how the brain processes emotional pain. In this class we will be deepening your bench, increasing your toolset, and finding creative ways to use the skills you have to explore nuance and texture within your scene. Discussing various tactics such as the long game, mind fucks, and emotional layering, this intermediate level course will help you expand your idea of what emotional play is and remove the training wheels.
Keywords
Emotional Sadism, Emotional Masochism, Silent Treatment, Failure Play
Class Type
Participant Requirements
Basic understanding of ES&M (Emotional Sadism and Masochism)
Finessing a Whip
I will start by talking about the types of long whips. I will demonstrate some basic long whip throws and
we can practice a bit. I will go over care of whips. Gotta take care of your investment! I will finish the
class with a demonstration of a few signal whip throws and how I move through my signal whip scene.
Keywords
impact play, whips
Class Type
Participant Requirements
Some whip experience
Fit to be tied: the art of finding, vetting, and negotiating with your rope Top(s)
This is a class for rope bottoms and rope tops looking to have better communications with their rope partners. Whether you're looking to get tied for the first time or have been enjoying bottoming for years, we want you to have better and more consistent bottoming experiences. It's also a great class for rope Tops who want to help empower their tying partners. MxBliss will walk through the life cycle of 1) finding safer rope Tops, 2) vetting and rigger due diligence, 3) making the ask, 4) negotiating a rope scene, and 5) creating mutually satisfying rope relationships. We will also discuss what to do when things go wrong. Using Mx Bliss's Rope Negotiation framework as the cornerstone, we will discuss how you can be a more empowered rope bottom and ask for what you want/need in rope. And as an added feature, we will go over basic rope bottoming safety tips and self-check practices so you can better protect yourself (and your rope Top).
Keywords
Rope, suspension bondage, bondage
Class Type
Participant Requirements
None
Florentine 101/201: Duel-Wielding Flogger and Whips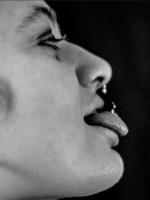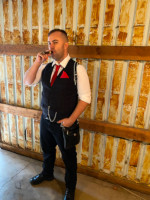 This class will cover basic and intermediate techniques and methodologies for using two throwing implements at the same time in scene.

Every level of expertise is welcome. Everyone is encouraged to bring their own tools (crackers removed from whips), or they can be provided with training ropes to follow along with the presenter.
Keywords
Floggers, Whips, Techniques
Class Type
Participant Requirements
None
Flow, Tension, and Lockoffs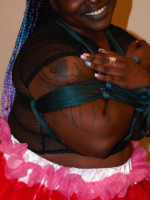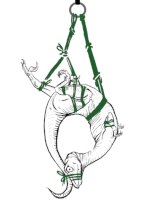 Looking for ways to work on your rope flow? Having issues with keeping your synthetics in line, in place, and locked off? Come learn some drills and tips that may help clean up your techniques and strengthen your skill set. Students should be able to do a single column and both natural and synthetic ropes are welcome in this class
Keywords
Rope Bondage Shibari Kinbaku Flow Frictions
Class Type
Participant Requirements
3+ Hanks of Rope, Cutting Tool
Forced Orgasms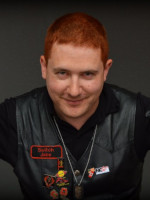 The act of giving your partner as many orgasms as they can handle and then five more. At first, they will praise you, an hour from now they will curse your name. Come learn how to not just get your partner off but also enjoy them begging you to stop. It will be the only time you will ever hear "Please sir/ma'am! Please! No more orgasms!" This class can also feature a live demo.
Keywords
Forced Orgasms, Bondage
Class Type
Participant Requirements
None
Group Sex: Lessons Learned from a Decade of Whoredom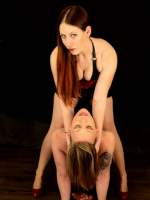 Have you fantasized about experiencing sex with a few extra people thrown into the mix? The more the merrier, isn't that the saying? Well, let's take a few steps back and go over the lessons learned from a "twue" slut who has participated in countless threesomes, orgies, and gang bangs over the last decade.

Using a discussion format, we will dive into our primary hesitations around enjoying group dynamics, ways to move past our fears, and a number of tips and tricks for threesomes, orgies, and gang bangs. A partner is not necessary for this class but an open mind is required. All curiosity levels welcome.
Keywords
Sex, connection,
Class Type
Participant Requirements
None
Head-Butts and Punches and Kicks...Oh My! And everything in between.
Team Soup/Polar, Team Soup/kate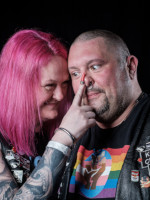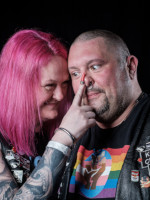 Sometimes you need to cast aside the toy bag and just get down to that basic, guttural, wonderfully animalistic type of play, the type where you use your brain and your body. But sometimes using yourself as an implement gets lost in the vast amounts of toys inhabiting our toy bags; we can forget that the bare hand, full contact, no toy play can be used for so much more than spanking (although there is nothing wrong with a good bare handed spank).Your body, if used correctly, can induce such varied sensations from loving and supportive to vicious and brutal and all points in between.

So join us as we get to know and get reacquainted with the toy that is with you no matter where you go.
Keywords
This class involves Authority Transfer, CNC, violence, power imbalance
Class Type
Participant Requirements
None
I Found a Pony Now What?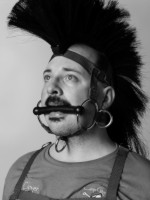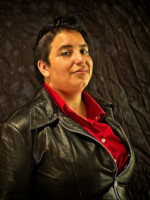 Let's do some scene crafting together. When your partner tells you they like pony play but you don't have a clue what to do next. Basic pony scenes for the novice players.
Keywords
Pony play, sex, impact, sensation, power exchange
Class Type
Participant Requirements
No skills. Brushes, crops, tack, ponies!
Intro to Sissification - Creating an environment of feminized empowerment in your play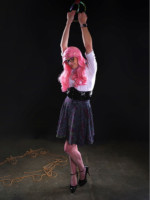 Imagine you place your hand on the door, slowly opening it into a party. The door opens, you struggle to keep your balance with each step you make in your heels. The metal lock clicking against your chastity cage is heard from under your short skirt with each step. You look in the mirror across the hall and see your perfect sissy self looking back.

Alright all you beautiful sissies and tops, let's talk about what you saw in that mirror and make it a reality. Join Ainsley as she dives into the world of gender fuckery aimed for all. Shining a light on creating your sissy identity and bringing it into your play, we discuss common archetypes, protocols, outfits, and toys. Let's talk about how to bring it all together while empowering yourself and growing your confidence. Grab your favorite heels, cutest outfit, and most of all don't forget your questions as we look at developing your inner sissy.

Please note: This class will NOT cover any form of gender based play as humiliation.
Keywords
sissification, feminization, gender empowerment, crossdressing
Class Type
Participant Requirements
None
Just Quillin': Porcupine Quills for Sadists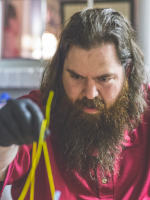 Piercing doesn't have to just been metallic and medical. In this class we will discuss the details around using porcupine quills for piercing play. Class will include safety concerns, how to acquire quills, and techniques for play. A hands-on demo will be included if possible.
Keywords
piercing, blood, edge play
Class Type
Participant Requirements
Basic knowledge of play piercing.
Kill 'Em With Kindness: Scenes of Affirmation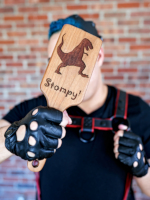 We often talk about playing with degradation but spend less time talking about the opposite. What exactly is a scene of affirmation and what does affirmation look like in play? In this class, we discuss motivations for playing with kindness and empowerment and strategies for creating affirming experiences. Attendees will have the opportunity to explore the themes and concepts discussed through demonstrations and exercises throughout the class.

Keywords
affirmation, positivity
Class Type
Participant Requirements
N/A
Kink & Disability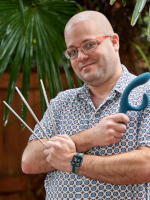 We can't all be perfect specimens of physical and mental health. In fact, many of us are in some way for lack of a better word, broken. This may pre-date our involvement in kink or even in sexuality at all. Or it could be a recent development. This can take many different forms and can affect our lives, and yes our sex lives in a wide variety of ways. Let's get together and discuss issues such as: how does one explore safe play with new physical limitations, how do we find satisfying substitutions for favored activities that may now have become off limits, and how do we talk to a play partner about our physical or emotional boundaries without freaking them out.
Keywords
disability, discussion
Class Type
Participant Requirements
None
Kink and Neurodivergence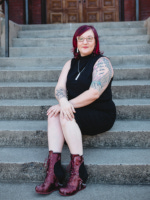 This class will explore how the kink community is impacted by the high rates of neurodivergence present in its members. Studies show that Autistics and ADHDers are more likely to be kinky, and this class with explore the ways in which that may show up in our scenes.
Keywords
Identity, neurodivergence, ADHD, Autism, communication
Class Type
Participant Requirements
None
Learning To Love What You Hate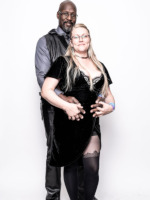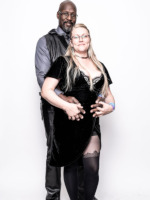 Learning To Love What You Hate - This class is about overcoming your hang-ups and fetishizing your personal taboos. Whether it's a toy that scares you, a relationship dynamic you've always wanted to try, but just seems too "crazy", or a fetish that you find as interesting as you do disturbing, we will explore ways to get you over whatever obstacles are holding you back from being as kinky as you want to be.
Keywords
M/s, D/s, Dd/lg
Class Type
Participant Requirements
None
Microbondage: Playing the Strings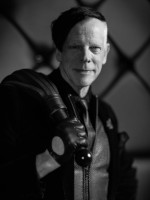 The fine art of microbondage involves tying someone (or yourself) with narrow gauge cordage. 2mm twine. Single-strand string. Even dental floss! Rope bondage is hot, but when the fibers get thinner, the the heat goes up. Microbondage is ideal for tying smaller appendages like fingers, toes, nipples, earlobes, any form of genitals, and extra-sensitive parts of the body that ordinary rope can't touch! It escalates your options for sexy, secret, CBT, or sadistic bondage. In this hands-on (and feet-in) class, Danarama teaches you how to safely tie bondage using any tiny line of your choice. You'll learn how to use microbondage for struggle-resistant predicament, humiliation, sexual, and decorative ties.

Keywords
This class involves rope.
Class Type
Participant Requirements
Coming with a partner is ideal, but it will be difficult to try tying most on yourself, and limited class time may not support switching practice with another partner. No singles turned away if they're just watching. Beginners welcome, but intermediate level riggers will get the most out of this workshop. Participant Materials: Please bring a bundle of "small rope" (yarn, twine, string, paracord, dental floss, or other thin materials). Tweezers and nail scissors are helpful.
Navigating Kink, Poly, and Authority Exchange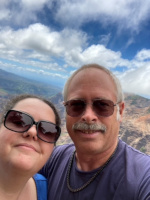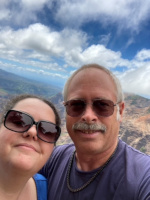 An interactive discussion on living within and combining kinky and polyamorous lifestyles inside Authority Exchange dynamics.

How (and when) should you introduce new partners?
Does the role in the dynamic impact that timing?
How can you communicate effectively about boundaries and limits?
How do you prevent the nuances of an authority exchange relationship from tainting the discussion?

What's a love language and how does it impact the relationship?
Do communication styles really matter?
How do you evaluate when it's time to negotiate or renegotiate the current dynamics to keep all relationships healthy?

Attendees are encouraged to share their thoughts and ideas to add to the discussion.
Keywords
Femdom
Class Type
Participant Requirements
None
Parenting, Power, and Play: The Struggle is Real!
Team Soup/Polar, Team Soup/kate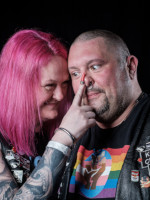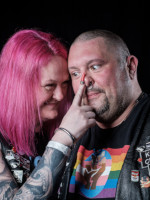 Life in the kink community is so exciting, liberating, and sexy. But parents can find the kink world more challenging to navigate.

Sometimes we feel spread thin emotionally...sometimes we struggle to balance our schedules so that we can meet all of our needs and obligations...sometimes we feel isolated from the freedoms enjoyed by kinksters who aren't parents...and sometimes we have to figure out how to answer tough questions. This isn't easy!

This discussion-based class will touch on a variety of topics that parents may be struggling with. Some of the possible topics will include:

1. How to handle the emotional balance of exploring kink while also being a parent. It can be tough to move between the two aspects of your life!
2. How to balance relationship dynamics (D/s, M/s) with parenting. Can we maintain our relationship model in the home while running a healthy family? Is this possible?
3. How to handle visible marks that may be seen by children.
4. Can we raise healthy kids
Keywords
This class involves Authority Transfer, CNC, violence, power imbalance
Class Type
Participant Requirements
None
Playing With Jealousy Without Getting Burned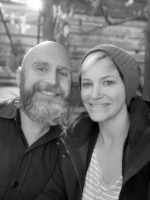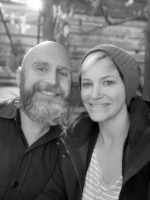 Usually people try to avoid jealousy. Some work to manage it or learn to rise above it. What if you'd rather poke it with a stick?

We'll share creative ideas for evoking and getting off on jealousy⁠—from the gentlest whispered fantasies through deeply humiliating consensual infidelity⁠—and Anton will cover the keys to ensuring that playing with jealousy remains a positive experience for all involved.
Keywords
None Specified
Class Type
Participant Requirements
None
PolyQuest: Power Dynamics in Polyamory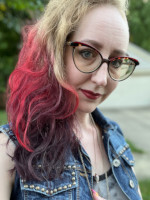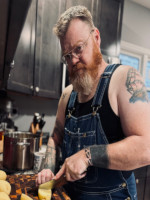 In a world seeking balance in all forms: a balanced diet, work/life balance, New Balance sneakers… We also seek balance in our polyamorous relationships. This becomes a quest when adding the intricacies of power dynamics. Red & Magisternodi share their experience and best practices for negotiating and maintaining healthy poly built around asymmetrical relationships. While no two polycules are the same, there are tips and tricks that can be used to give your chosen family a fighting chance.
Keywords
Poly, Power Dynamics, Relationships, M/S, D/S, Polyamory
Class Type
Participant Requirements
None
Power Exchange for the Long Haul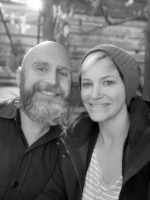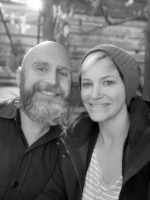 Many of us dream of power exchange that never ends, but only grows deeper over years of dominance and submission. Many of us also discover that realizing that dream is more complicated than it looks!

There are challenges to long-term power exchange that don't come up in an evening of D/s play, or even in the first six months. We have to find ways to integrate our D/s with the demands of our vanilla lives. People change over time, and we have to either change together or grow apart. But there are also rewards unique to long-term D/s that aren't possible in shorter-term dynamics. We can do profound kinds of training, find powerful stability in established structure, and build a unique kind of trust.

We'll share hard-earned lessons about how to keep D/s vibrant and harmonious across the years, as well as some ideas of what's possible to do with a years' long power dynamic. This will be an interactive class, with lots of opportunity for participants to share their own lessons and ideas.
Keywords
None Specified
Class Type
Participant Requirements
None
Psychological Shadow Archetypes of D/s and BDSM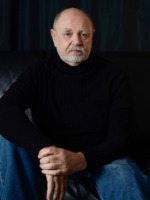 One Shadow can destroy trust and connection – another offers transcendent dark-edged sexual ecstasy.

Our unresolved shadow personas (based on Jung) can wreak havoc on our D/s relationships. They can also add potent psychological depths to our erotic excursions into the taboo edges of BDSM sex.

For example, a raging tyrant or an incessant victim aspect of a person may be triggered to life in a moment, that acts nothing like the noble Dom or sub one aspires to be.

But in a consensual, negotiated scene, bringing out the tyrant aspect has the potential to drive the sexual intensity off the charts for both Dom and sub. There can also be a shadow behind one's hesitancy to fully embody the tyrant in a scene, even when a partner desires that intensity.

Learning about and beginning to resolve our shadows can build profound trust, enhance the depth and intimacy of our D/s relationships, and allow the deepest expression and ecstatic experience of our personal BDSM sexual personas.
Keywords
Kink Psychology, Sexual Shadow, Sexual Archetypes, Sexual Empowerment
Class Type
Participant Requirements
No
Realistic Conflict Resolution Within 24/7 Dynamics: Both parties are heard and the dynamic stays intact
Team Soup/Polar, Team Soup/kate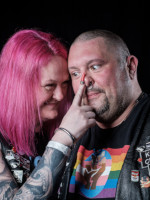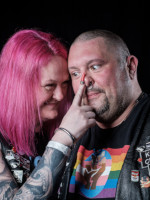 Let's face it, we have all seen M/s conflict resolution classes that propose one of two options: set the dynamic aside while in conflict or fall back to the dynamic and remove the voice of the slave completely. But do either of these options work or even make sense? Nope! So let's talk about how to resolve conflict like adults in an M/s dynamic!
Keywords
This class involves Authority Transfer, CNC, conflict resolution, power imbalance
Class Type
Participant Requirements
None
Revolting Gender: Kink and Playing Beyond Gender Binaries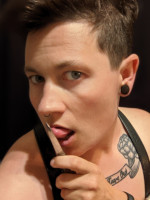 LGBTIQA leather and kink communities have been spaces of exploration and revolution. This has been true, especially in performances of gender. Many people use kink spaces as places to explore their desire to dress, perform, or embody gender expressions outside of their own. Along with teaching attendees how to fuck with gender, this class will:

• gloss terms, language, and differentiate sex from gender
• discuss the relevant feminist history involved in the evolution of trans and genderfluid identities
• discuss various ways that gender and sex are used playfully both in vanilla and kink spaces
• discuss how to provide safe and comfortable space for trans/fluid/gnc/non-binary partners to discuss their desires and limits.

Keywords
None Specified
Class Type
Participant Requirements
None
Sacred Leathers: Spirituality & Leather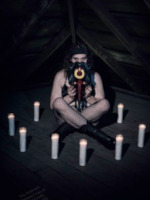 This class focuses on how spirituality can be explored or exchanged while bootblacking alone or with someone else in your chair! Often our leathers have deep and meaningful stories spanning beyond our initial purchase and we, as the wearers, are a part of that garment's story. This class looks at how we all can uniquely celebrate, channel, and conjure that beautiful energy with our second skins.
Keywords
Spirituality, leather, bootblacking, ritual
Class Type
Participant Requirements
None, applicable to non-bootblacks as well. Handouts via google docs.
Sadism in 3 Needles or Less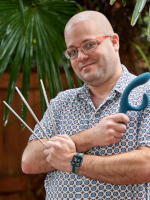 One of the challenging and entertaining things about about sadistic needleplay is crafting tons of sensation out a very few needles. Building on a decade of teaching needleplay, Wintersong has designed this class to cover techniques for building cohesive scenes with 1, 2, and 3 needles that will leave bottoms cooked and sadists satisfied.
Keywords
Needleplay, Needles, Blood, Impact, Sadism, Demo
Class Type
Participant Requirements
None
Sadistic Rope
Hitchin' Kitten, Carter Brûlée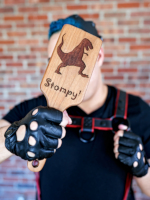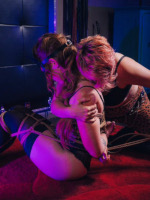 Sadism is a glorious spectrum of opportunity to create connection, play with power, and encourage personal growth. We will examine the ways we engage with sadism in rope through body position, rope application, and movement. We will also explore other toys and kinks that can be combined with rope to create your favorite flavors of sadism. This class is open to anyone, from the curious-about-new-sensations to the "hardcore" sadist or masochist.
Keywords
rope, S/M, sadism, masochism, sensation play
Class Type
Participant Requirements
Know a Larkshead/reverse tension and single column tie. Bring 2-3 hanks of 30 ft rope and safety shears or cutting hooks.
Sadistic Science: Best Practices for Experimentation in Pain and Torture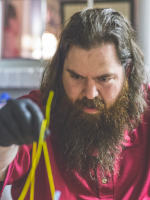 Much of what we do in the kink world is uncharted (or relatively uncharted) territory. There are few manuals in the world that instruct you on how to do some of the more extreme things we do. So we often learn by doing, through well-researched and risk conscientious experimentation. Sadistic Science! In this interactive discussion, I will talk about some of the best practices I have developed over the years of doing sadistic science.
Keywords
None Specified
Class Type
Participant Requirements
None
Scene Negotiations – a quick and adaptable approach with depth where it counts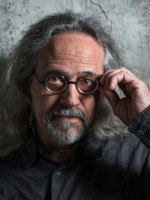 In the rush to get to the main event, beginners and experienced players alike often gloss over important aspects of pre-play talk that could open the door to far more gratifying scenes. But scene negotiations don't have to be dry or boring; in fact, they can be exciting foreplay for the mind. By giving negotiation just a little bit more time and thought, you can add power and energy to your scenes that will help you get the most out of your playtime.
This presentation provides an easy to remember system for approaching BDSM play that provides an avenue for open and honest exchange about what really matters in a kink scene, so that in just a few minutes potential play partners can readily communicate about critical facets of mutually fulfilling play and help avoid unintentional consent violations.
Keywords
Negotiations
Class Type
Participant Requirements
None
Sensational Head Play: Hair Pulling and Face Slapping for Play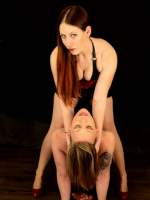 When done correctly, hair pulling and face slapping can leave your eyes rolling in the back of your head, falling deeper into a headspace, and closer to your partner than imagined. This class covers psychology, safety, technique, and many examples of how to bring your partner to their knees. A partner is not needed, but this will be an all-encompassing lecture, demo, and hands-on class. Note that this subject starts with hair pulling and ends with face slapping, to provide education on both topics, and allows space between the two if face slapping is triggering/ hard limit/ too edgy to attend that portion. Come learn a few new ways to take your partners' breath away.
Keywords
Impact
Class Type
Participant Requirements
None
Sensory Manipulation: An Immersive Experience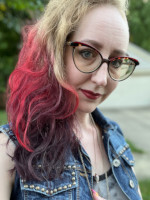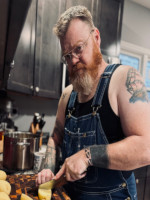 Dissecting the senses and exploring them from their highest to their lowest, we will transcend mere deprivation to discover the beautifully horrific disarray of true manipulation. This interactive 4D experience will make you reconsider everything you thought you knew about how you experience the world. Strip yourself of gags, blindfolds, and everyday kink toys and step outside the box.
Keywords
Sensory Manipulation, Sensory Deprivation
Class Type
Participant Requirements
None
Sometimes It's Just About Being Cruel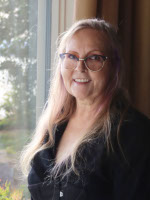 The sadist inside needs to be fed once in a while too! It can't all be about only going one step and a tip toe past what the bottom wants. Once in a while it's a leap, a bound, and a sly smile more than what they 'want.' Keeping the bottom in the here and now with things you know they hate is a sadist's delight or an owner's thrill. Whether it's the power or the pain, it's all good fun. Come along with Miz Tee while she taunts her prey and does horrible things to them. Add to the fun with some ideas of your own!

This is an interactive presentation. This is a 301 skill level presentation with the parties involved being risk aware. We do not encourage trying many of these activities without putting due time in your own kink aware training. This type of play is for established play partners with consent given to push past the bottom's normal comfort zone.



Keywords
This class can involve blood play, perforation, torment, torture, discomfort, and maybe tears and snot.
Class Type
Participant Requirements
none
Suspension of Disbelief: plastic wrap suspension and mummification
Are you interested in suspension but aren't yet confident about rope safety? Do you like the look of meat wrapped in plastic at the grocery store and wish your lovely bottom was similarly wrapped? Are you tired of topping/bottoming for the same ol' rope suspension scene and wonder 'hey, what's next for me?!?' Come learn the whimsical and sexy AF art of plastic wrap suspension. In this hands-on workshop, you'll have the opportunity to help mummify and suspend one of the demo bottoms while learning practical skills in case you ever need to work in a warehouse and wrap palettes. We'll go over safety, material choices, and you'll walk out with the know-how to go top/bottom for your own suspension!
Keywords
mummification, bondage, suspension, plastic wrap
Class Type
Participant Requirements
None
Technical Aspects of Suspension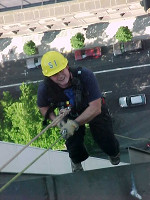 Partial or full suspensions? No, we won't be talking about rope work, instead, we'll cover some of the technical aspects of suspension. This workshop will cover safety factors, strength of materials (including rope), choosing hardware, and the mechanics of simple beams and trusses.

In this class, we'll refer to stage rigging or fire service practices. Most fire departments utilize National Fire Protection Association standards for rescue operations. These standards, as well as American Society of Mechanical Engineers, and Occupational Safety and Health Administration are the some of the standards this class will be based upon.

Keywords
Rope, Rigging, Suspension, Safety, Hardware
Class Type
Participant Requirements
None
The Art of Caning
This class is fairly comprehesive and will cover materials, safety, various styles and techniques, plus live demonstrations.
Keywords
Impact play, caning.
Class Type
Participant Requirements
None.
The Chaste and The Keyholder (AKA: So You Think You Can Cum?)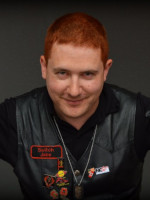 Chastity is a unique form of play and requires a very special type of relationship. This class covers various types of devices and contains a personal account of how chastity feels from a male perspective. This class will feature various devices used in chastity and audience members are encouraged to come forward to demonstrate their devices, explain their relationships, examine and touch the sample devices, or recount their experiences with chastity.
Keywords
Chastity
Class Type
Participant Requirements
None
The Dance of Steel and Skin: Erotic Knife-Play!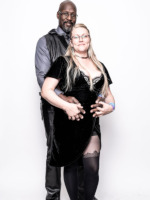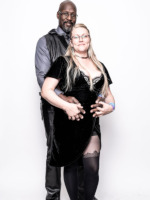 Learn how to make a hot, sexy, scary knife play scene that will leave your bottom quivering with fear and arousal without spilling a drop of blood. From fear-play, to sensation-play, to impact-play knives are one of the most intimate, versatile, and sexy tools in your toy bag.
Keywords
Impact, blood, sharps
Class Type
Participant Requirements
None
The Exquisite Whip: Hands-on Flogging Training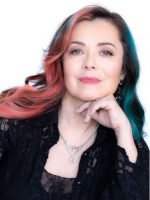 Improve your flogging skills! Whether you're a total novice or already confident with the whip, there's plenty for you in this unique and very active class.
Enjoy drills on techniques to deliver powerful, effective sensations without top-fatigue. Sharpen your finesse and precision to create the desired sensual, sexual, and emotional effects.
You'll learn how to select the best flogger for your style and body type.
Keywords
whip, flogger
Class Type
Participant Requirements
Bring your floggers. More the merrier! If you don't have any, there may be a few to try out. If you have extra floggers for others to try, it would be lovely if you bring them. If you want to learn to flog in high heels, or other specialized footwear, bring them and wear them. No need to bring a target person or a practice partner.
The Science of Fear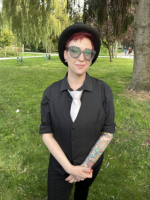 From neurochemicals and blood flow to the psychology of our primative mammalian brains, this discussion and demo based workshop is all about Fear. How Fear works on a psychological and physiological level and how you can use this knowledge in your play. Join or watch the nerdgasms as we explore the delicious depths of Fear.
Keywords
Fear
Class Type
Participant Requirements
none
There is no 'I' in Object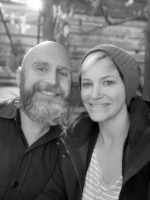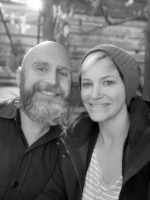 Consensual objectification is a delicious paradox. Objectification means denying a person's agency and using them like a thing. Consensual means working together for the mutual fulfillment of all involved. On the face of things, they're opposites, but when they can be coaxed into working together⁠, the power and the sweetness of the connection are incredible. The consensual side creates trust and safety to go deeper into objectification. The objectification becomes a way for each partner to respect a secret, vulnerable piece of the other's desire that most people wouldn't accept.

Join us to explore how we can keep the two sides of the paradox balanced through heavy and/or prolonged objectification play.
Keywords
None Specified
Class Type
Participant Requirements
None
Tips, Tricks, and Booby Traps for Finding Pickup Play: flirting, navigating consent, and anticipating the next scene
Before you head out to the dungeon, come learn best practices (and mistakes made) for getting more play in your life. You'll walk out of this class with practical skills for finding, negotiating, executing, and concluding a scene with special attention to 'pick-up' play. We'll discuss the art of flirting (without being creepy). You'll also get a framework for negotiating scenes with someone relatively unknown to you. In the workshop, we'll share precautions and best practices when playing with someone you recently met. Finally, come learn the secret of world-class aftercare. We will reserve time to demo and rehearse your new flirting and communication tools.
Keywords
None Specified
Class Type
Participant Requirements
None
Using social discomfort as a tool in your toy box - an introduction to humiliation and degradation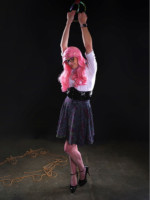 You lean back, still feeling the mud on your lips and the residual texture lingering on your tongue. The laughter echoes in your head, you feel the grip of a hand in your hair forcing you to look at the room around you as people watch. Lost in the erotic moment, you repeat the words you're told to repeat as they are whispered in your ear. "I am a dirty mud licker" comes out of your mouth and you beg to lick the rest of the dirt off a partner's boot.

When we talk about erotic humiliation, we begin to pry and leverage our partner's social discomforts such as insecurities, inadequacies, or shame as part of the scene. Focusing on safe practices, negotiation tactics and their own experiences, Ainsley teaches one of their favorite kinks. Let's discuss how to use social discomfort as another tool in your toy bag to add even more spice to your scenes. Together we'll go over what makes humiliation so interesting and ways to build a scene that leaves both tops and bottoms begging to do it again.
Keywords
humiliation, degradation
Class Type
Participant Requirements
None
Veterinary Play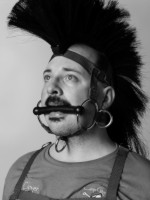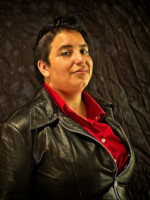 It's like playing doctor, but you are the veterinarian, and your partner is the animal. Explore pony play from the medical side using skills you already have. Whether you enjoy needles, sensation play, elastrators, taking care of animals, making animals feel better, cautery pens, or exploring orifices with your hands, you will enjoy this basic level introduction to all things vet play. It's pony centric but can be adjusted for all types of critters.
Keywords
Pony play, sex, impact, blood, cutting, branding, power exchange, bondage, medical play
Class Type
Participant Requirements
Bring your pony and things that will make them hurt and/or feel good!
Welcome to the Jungle: Pet Play for All Animals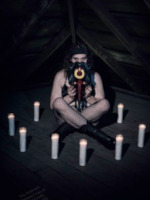 Take a trip through the Animal Kingdom as we explore the multiple ways we can nurture and celebrate ours, or a partner(s) animalistic side! This class is a Pet Play 101, inclusive of all animals!

Whether you're a domestic kitty, a cool cow, or a lazy lizard, we've got you covered! We'll explore the basics of pet play and how to help build an easy-to-enact, immersive headspace unique to your own inner animal, as well as dive into the possible dynamics within pet play.
Keywords
Pet play, 101
Class Type
Participant Requirements
None, handouts via google docs
What's That Sound? - Gender Inclusive Urethral Sounding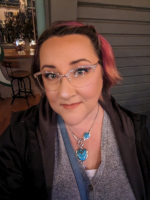 Urethras. We all have them. Typically they just hang out down below, doing what they do and helping us pee. Until one day you think, Huh. What would it feel like if I stuck something in there?

The involuntary cringe is often the reaction to most when thinking about urethral sounding. Then there are the others of us who are intrigued! What does it feel like? How do you do it? What do you need? Is it safe?

All of these questions and more will be answered with the aid of a live demonstration. We will talk safety, hygiene, tools, anatomy, and so much more! This class will be gender inclusive and discuss points for both penis and vulva owners.

This class will involve a live demonstration and nudity. Please be advised.
Keywords
Sounding, Urethral Sounding
Class Type
Participant Requirements
None
When No Doesn't Mean Stop: The CNC Spectrum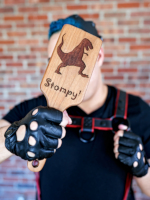 Consensual nonconsent (CNC) is often used to describe a variety of types of play and relationship dynamics. From roleplaying unwanted sex to 24/7 no-limit no-safeword dynamics, CNC is a spectrum of activities with varying levels of risk. Changing what words like "no", "don't", and "stop" mean in your play and relationships comes with additional risk. But how do you determine where you land on the spectrum and what your risk tolerance is? In this class, Carter discusses assessing your risk tolerance, negotiating CNC play and relationship dynamics, communication during CNC, and planning for the inevitable fuck ups.
Keywords
CNC
Class Type
Participant Requirements
N/A
When rope goes wrong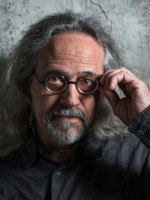 Rope bondage can be one of the more risky forms of play that kinksters engage in. And because of its increasing popularity, more and more people are enjoying playing with rope who are often unaware of some of the dangers and difficulties that can creep up unexpectedly.
In this workshop we'll go over many of the common problems that can occur during rope bondage, talking about how to spot the hazards before they lead to complete calamity, and how to mitigate the risks when action is necessary.
This lecture/demonstration is geared towards riggers and DMs, but the information we'll be covering is also valuable for rope bottoms who want to increase their awareness of the risks of being tied and how they can help reduce the dangers through communication and actions when things do inevitably go wrong.
Keywords
Rope bondage
Class Type
Participant Requirements
None
Who's Your Daddy?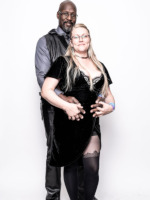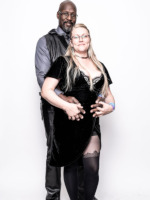 Exploring the ins and outs of the Daddy Dom/ baby girl dynamic. From creative punishments to protocols, bedtime rituals, and emotional pitfalls, we examine this fun and loving lifestyle from all angles.

Keywords
M/s, D/s, Dd/lg
Class Type
Participant Requirements
None
You Could Try to Pin Me: Erotic Wrestling Techniques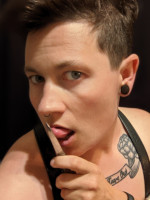 Whether you are trying to prove your dominance, being a brat, or getting close and sweaty before getting down and dirty, erotic wrestling is a lot of fun. Like many other kink practices, wrestling can also be extremely dangerous. Utilizing five years of experience as a wrestler and six years as a wrestling referee, Ferris will teach you how to safely take control of someone. You will learn and practice: quick takedowns, defensive maneuvers, positions of control on the ground, how to prevent injury, and moves like the "Saturday Night ride."
Keywords
Erotic Wrestling
Class Type
Participant Requirements
None
Zip-Tie Bondage: Fast & Fancy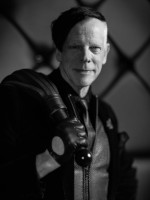 Learn how to use ordinary plastic zip ties (a.k.a. cable ties) in dozens of ways to restrain your partner for extremely effective bondage, dominance, or even rough sex. Used alone or in combination with furniture, cable ties can be used for a variety of creative or minimalist restraints. Danarama will demonstrate and coach the fast and effective uses of these common items, including hand and arm restraint (single and double column), thigh restraints (zip-tie futomomo), chest harness, hogties, and binding bottoms to objects.
Keywords
None Specified
Class Type
Participant Requirements
None