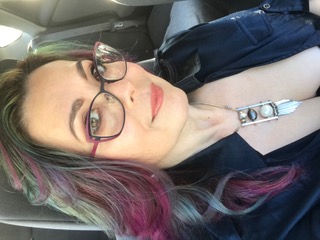 Midori Intensive
Midori (美登里 )(she/her) Trailblazing educator, artist, and irritant to banality, Midori teaches, coaches, and consults on alternative sexuality, BDSM, Shibari cultural competency, and joyful empowerment through D/s and thoughtful kink. She began teaching in the mid 90's in San Francisco and shortly after established her company Fire Horse Productions. Midori is known for having penned the first English instruction book on Shibari, "Seductive Art of Japanese Bondage" in 2001, paving the way for the popularity of rope today.
Midori founded Rope Dojo in 2002 and ForteFemme: Women's Dominance Intensive in 2004. In 2020 she launched the monthly deep dive discussion youtube program Consent Dojo. Currently, she is working on a follow-up book about Shibari and strategies for engaged play. Midori is the Co-Director of Curriculum for Kink Informed Certification, part of the Sexual Health Alliance, training therapists and helping professionals to provide safe, compassionate, and inclusive service to their clients.
​She also authored "Wild Side Sex," "Silk Threads" among others and contributed a chapter to "An Intersectional Approach to Sex Therapy: Centering the Lives of Indigenous, Racialized, and People of Color"
She is the recipient of the 2022 Humanitarian Award from the American Association of Sex Educators Therapists & Counselors (AASECT) and the 2022 Effing Foundation Grant, along with having been honored with a Sainthood by The Sisters of Perpetual indulgence.
Her site: www.PlanetMidori.com
Classes, art and live events: www.patreon.com/planetmidori
Social Media: @PlanetMidori
Mapping Your D/s Archetype
Do you crave D/s relationships?
Do you want to improve your current M/s relationship and understand your partner better?
Are you clear about your desires, parameters, and boundaries around D/s? Are you able to explain these clearly?
How do we create successful and fulfilling D/s and M/s relationships?
How do we find the best match and avoid disaster and broken hearts?
What goes into creating effective protocols?
To answer these questions, first we must have a solid foundation and understanding of our own desires and D/s goals of our partners. Long before protocols, contracts, expectations, and collars come out, there's important work to be done. It's worth it!
This unique interactive class is designed to help D/s - M/s oriented individuals, leather families as well as the curious to discover and discuss their own relationship archetypes. We'll begin to diagram the expectations, boundaries, goals, and priorities for your current and future relationships.
Through this class you'll gather information necessary in creating effective protocols and the details of daily interactions. Individuals, couples, and multi-member relationships are all welcome. Be prepared to do some creative and hard work at the start to help reduce heartaches down the road! Open to all experience level, genders, and orientation.